I've been reading this blog
Between Naps on the Porch
for quite awhile and I LOVE Tablescape Thursdays. Since I happen to be off today, I decided to give it a whirl. After posting at Between Naps on the Porch, I heard about Masterpiece Monday at Boogieboard Cottage. So, this tablescape is also posted there.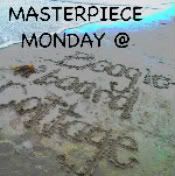 Our Christmas Tree was in the space where this table is so it's refreshing to have something new to look at.
I have quite a large collection of Snowbabies that I decided to use to decorate the table since we are living in a Winter Wonderland.
Many of the other tablescapes had bits of Valentine's day thrown in so, I decided to use my red plates that I got just before Christmas and the lovely Lenox napkins we got as a wedding gift.
The candles looks so warm and inviting in this horribly cold weather. Hopefully, Spring will be on it's way soon enough.
I had lots of fun putting this table together. It felt a lot like a little girl playing house. Hopefully, the hubby and I will get to put this lovely table to use over the weekend.